Airdrie Luxury Car Service
Airdrie's Most trusted Taxi Cab service
In a town of just under 80,000 people we've been asked,
"Is this service needed, with ample competition and a large selection of cab companies why would you create the service you're creating?"
Our answer is simple, Create the service & with that you create the need. Airdrie is our home, a beautiful small town with big city feeling. We want to eliminate the norm, be unique & provide a service so exceptional; the idea of going anywhere else seems absurd. Locally owned, locally operated & locally luxurious, Welcome to SOFO Executive Car - The company you want to ride with, not the one you have to ride with.
Cheyanne Varner
CEO SOFO Holdings Ltd
Local & Long distance drop off services, From west side of Airdrie to the East, From your home; to downtown Calgary & anywhere in between or beyond.
Premium Services, Same Great Rates
Arrive at or depart from Calgary Airport in style & Luxury. Simply call ahead and book one of our luxury taxis to come pick you up and get you where you need to be – on time and in style.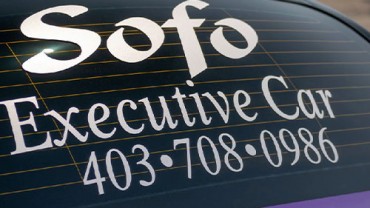 Considering a longer trip into the city? Don't charge the meter if you don't have to; Our hourly rates for cars begin @ $40.00/Hour CAD + GST Keep the car as long as you require, Minimum 2 hour booking required, and scheduling must be made 24 hours in advance. Contact us for further details to book your next trip.
When you ride with Sofo Cabs – Airdrie Taxi, it is our mission to provide you with much more than a simple ride. Enjoy the VIP Experience, With our door & luggage service. Our drivers will open and close your door upon entry & exit, Once seated comfortably and safely in the vehicle our drivers will be happy to load & unload your luggage to provide the most elegant of services, you need not lift a finger; Just sit back, relax & enjoy the ride.